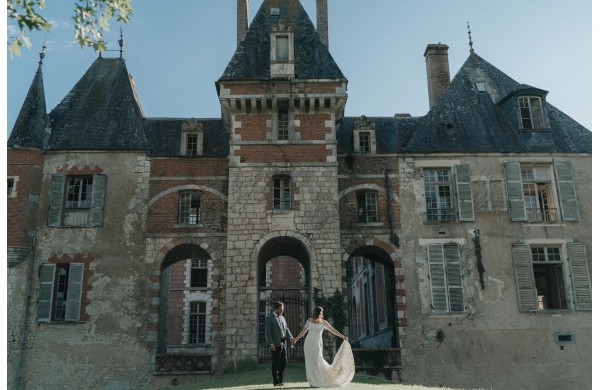 oct. 15, 2019
Marie & Alban's wedding in Le Château de Courcelles
Harpe Brides
How did you meet each-other ?
With Alban we did not meet in our fourth year of communication studies at Efap. We had lunch together with other friends who were our witnesses. I knew it was him! Then in December Alban organized me a surprise birthday at his place and we formalized our couple ... It was almost 9 years ago.
How / where did the request take place?
Alban asked me in marriage in our apartment. On November 24th I went home with his Christmas presents and on the landing he told me to put my things and close my eyes ... I went back to the apartment blind, my birthday approaching j I thought he bought me a dog ... When I felt his hand bend down I understood what was happening. He asked me the fateful question "Will you marry me?" I still had not opened my eyes that I was already crying ... But in fact the most beautiful thing is that one of my favorite things in the world is the snow ... However, since there is rarely in Paris, he managed via overhead projectors and decoration to make snow fall in our apartment ... It was just perfect.
Tell us about your wedding, place, date and theme
We did everything in the same day even though we put more than one and a half to prepare it ... June 15, 2019 our day to start at 12 pm at the town hall of the 1st, I prepared myself with my witnesses in a hotel room right next to our apartment. We had a room apart the night before ... So we decided to join the town hall together on foot with our parents and witnesses. The discovery in the streets of Paris in front of our apartment was great! Then after the ceremony I went back to the Hotel, before the ceremony at the church at 2 pm. We walked with my father to the church Saint-Roch for a moment both of which were very moving. For the little anecdote I had to do a dozen photos with tourists discovering Paris on my way ... After the ceremony we all took our cars to go to Orléans at the Castle of Courcelles le Roi in the 45. It's my best friend and witness with her husband who made our drivers. They had thought of everything, bottles of water, playlists, chargers, sweets ... The trip was super fast thanks to them and we were able to regain our minds. We chose this place because it is in my husband's area, the grounds are beautiful and there are 45 beds. It was very important for us to have our family and friends until the end of the night. The Cocktail was by the pool, then a dinner inside on a country theme. We did not want a traditional meal so we had imagined a Bar next to beef for the main course and a wink at my Italian origins for the rest of the meal, a success!
  What were the points that seemed essential to your marriage?

Have a good atmosphere and full of love around us!



     A little advice to give to our future brides


Being organized, do not get stressed and most of all enjoy every moment because it goes far too fast!