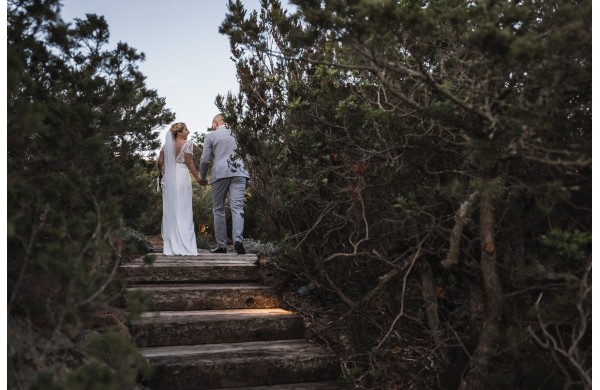 déc. 18, 2019
Le mariage d'Emline et Laurent en Corse
Harpe Brides
Discover the idyllic marriage of this young parent couple, Emline and Laurent in Corsica, at the Murtoli estate.

A bohemian and sweet wedding on the beach.
How did you meet each-other ?



It was not the most romantic meeting of all time ... We crossed paths in a bar with a few too many glasses in our noses, especially Laurent! We almost missed out, everything was played over the last two minutes before leaving the evening but fate decided otherwise. And a week later, on our first date, we already knew that we had spent our lives waiting for this meeting. Three months later we proudly brandished the key to our first love nest.
How / where was the request made?
Laurent has always had an eye for detail and hates being forward-looking, so he did everything to surprise me when he asked. We were passing through Verona, a stopover on the road to Croatia, where we spent a very romantic evening. Aperitif overlooking the roofs of the old town and the Arena of Verona, followed by a gourmet meal and a night stroll through the historic center and the banks of the Adige. I was convinced at all times that he was going to ask me but no. I returned to the hotel empty-handed, telling myself that it would be another time, a little disappointed anyway. And there against all odds when I got out of the shower, he was waiting for me, knee on the ground ready to pronounce these words that I had waited for so long. I don't remember if I gave her time to say something before yelling YES. And once again he managed to surprise me.
Tell us a bit about your wedding, place, date and theme
We were married on October 17, 2019 on the beach of Domaine de Murtoli in Southern Corsica. Even before Laurent made his request we knew that our marriage would take place there. We fell in love with the splendor of this totally preserved place where time seems to stop. We wanted a discreet wedding in small groups with the people who are most dear to us. Almost all the guests were able to travel to Corsica where we spent three dream days. The first evening we spent a magical evening in the Cave restaurant in the Murtoli area. By candlelight and around a dinner typical of the region we laughed a lot and just enjoyed spending time together. On the wedding day, the weather was bright! The day started off smoothly with a paddle ride followed by stress-free preparations. At 4.30 p.m. sharp, I took my first step on the beach to join Laurent who was waiting for me, more beautiful than ever. The ceremony was magical thanks to the presence of Corsican singers who offered us sacred songs. This was followed by an aperitif in the maquis with a view of the sea and a gourmet meal at the Table de la Ferme.
As for the decoration, the room is already sublime. It was completely filled with candles and the tables decorated with aromatic plants for a natural, warm and somewhat botanical effect.
How did you choose your wedding dress?
Difficult to explain! The first one I tried was the right one and I knew it right away. They were all more beautiful than the others but I knew it when I looked in the mirror. The Calypso was made for me, I fell in adoration of its Spanish lace.

What were the points that seemed essential to you for your wedding?


Humm .... Everything was essential for me but if I had to choose, I would say a unique place and an outstanding photographer. We wanted to be able to relive the emotions of this special day through images!
A little advice to give to our future brides




Above all, delegate! Even if you're like me and like to run everything, you have to let go. Things are done the way they should be done so enjoy and drop everything that is not essential. Everything will be fine, never exactly as planned, but always in the best possible way. Enjoy


Dress : Robe Calypso HARPE
Chaussures : BOOBIES
Mua : Institut Cours 28
Venue : Domaine de Murtoli
Photographe : Aurélien Bretonniere
https://www.aurelienbretonniere.com


Second Shooter : Un petit coin de Parapluie
Bouquet de Mariée : Home Made
Papeterie : Coton Bird
Fleuriste : Annie Fleurs