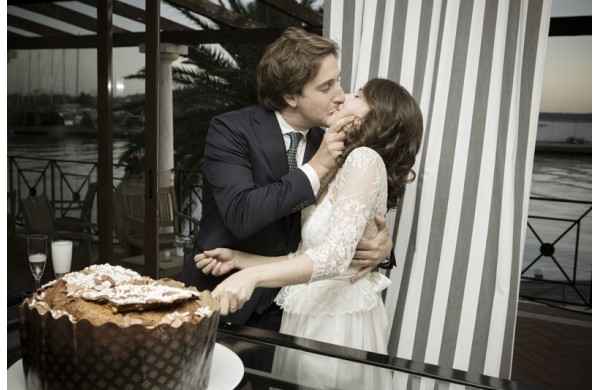 Le mariage de Margherita et Federico s'est déroulé à Rome le 14 décembre.
Italienne, Margherita rêve d'une robe de mariée confortable aux matières soyeuses et d'inspiration vintage.
Elle a choisi le modèle robe Kate sur mesure, personnalisée avec des manches 3/4 en dentelle de Calais.
How did you meet each-other?

Federico and I met very young during the summer holidays at sea, and we even kissed at the end of the vacation! I was 12 years old and he was 14 years old :) Then we lost contact and we saw each other again during the marriage of a very good friend and from that moment, it all started!

 How did he ask you to marry?

During a baptism! Then followed, the evening, the party and Federico had had a little drink! It gave him the courage to ask me to marry! It was very spontaneous ...

Tell us a bit about your wedding, place, date and theme

We are married in a private marina (yatch club), the name is Porto Romano next to Rome, a superb place ... December 14 with an incredible sun! The atmosphere was therefore perfect, it was good, the guests relaxed in the sun with music, champagne ... And the view of the river which overlooks the sea ... It was really superb.

How did you choose your wedding dress?

Very good question! I searched a lot and tried a lot of dresses ... But hey I was never convinced and then thanks to a few clicks on the internet, I found Harpe.
     What were the points that seemed essential to you for your marriage?

The atmosphere must have resembled us, the music, the caterer and the flowers ... Indeed, it is important to offer the things we like to the guests.
 A little advice to give to our future brides

Trying to live in the present moment, to be happy ... It's true, it's a special day. It is only when you see it that I can understand! On the day of the wedding you will have the feeling of walking on clouds .... Make the most of D-Day, in the end.